Supporting CPS Students in Times of Crisis
In unique circumstances, our community has responded with extraordinary support. Throughout this tumultuous year, partners and supporters have rallied around CPS students. As part of CFF's broader work on behalf of Chicago Public Schools, our Compassion Fund has raised over $11M for COVID-19 Crisis Response, plus millions more from in-kind donations. Resources contributed to the Compassion Fund provide direct emergency relief for schools and families. 
An outpouring of generosity
An immense network has united in partnership, helping ensure CPS families are safe and supported – and that students are equipped to succeed despite changes to their learning environment. Since January 2020, Children First Fund has received support from over 1,200 individual and organizational donors. Donations reflect the diversity of our community of supporters, with contributions ranging from $5 to over $1M.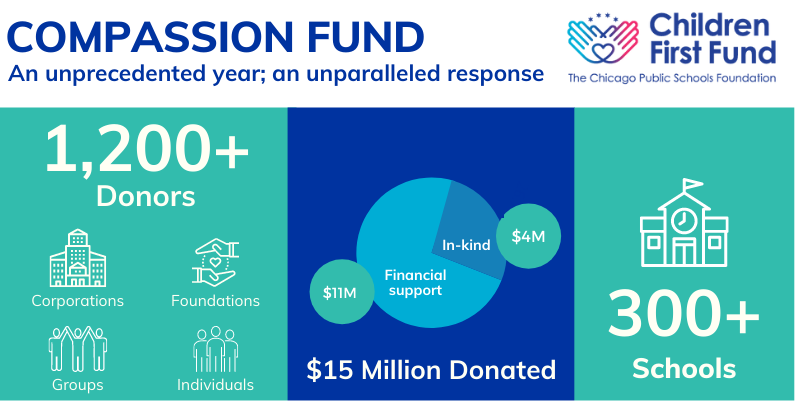 Support that extends beyond the classroom
Students and families have long looked to CPS for support that extends beyond the classroom, particularly in times of crisis. That's apparent this year more than ever. Amidst skyrocketing unemployment and a daunting public health emergency, CPS students have shouldered immense personal and family responsibilities – all while pursuing their own educations and adapting to dramatic changes in their learning environments.
Each day, Chicago's dedicated school leaders and educators help their school communities process and deal with the pandemic's sweeping impact. Alongside COVID-19, students have confronted numerous other crises, including increased national awareness about racial violence, civil disobedience, and waves of civic unrest. Innovative and empathetic as ever, Chicago's educators offer their communities practical, mental, and emotional support.

To meet acute, unpredictable needs with responsive, flexible funding, Children First Fund has collaborated with CPS principals throughout the pandemic to equitably distribute resources to hundreds of CPS schools. Established relationships with principals paved the way for school leaders to request support from the Compassion Fund throughout the crisis.
Laura Lemone, EdD and Chief of Schools for CPS' Network 14, says she "appreciates the simplicity of the process" created for the Compassion Fund's COVID-19 Response efforts, which she describes as a "godsend" for families in Network 14 experiencing "sudden — and, unfortunately, often multiple — challenges" throughout the extended crisis. She underscores the importance of leveraging school leaders' strong and trusting relationships with families in their communities: "when hardship comes, the schools know and try to quickly connect the family" with the resources they need. And turnaround time is crucial, as families' needs and situations can shift rapidly.
"We are very quickly able to gather referrals from schools and approve and distribute resources quickly," continues Lemone. "A quick response of flexible aid can ensure families have groceries that week or their utilities stay on."
Emergency relief: widespread
and
individualized
With emergency relief that is both widespread and individualized, the Compassion Fund aims to help meet and ease the divergent, unpredictable challenges of our present moment. Distribution has prioritized support that empowers families to address their most pressing needs and meeting these needs in a responsive, equitable manner requires constant collaboration with school communities and their leaders. All along the way, it's been resourced by an outpouring of generosity from our community of friends and supporters. 
"The staff is going to be so excited and you better believe I will pull out all the stops. It is wonderful to know that someone is truly listening.  In my 30 years of doing this work, this feels so refreshing and gives me something to look forward to as each new day presents its challenges. You guys are truly family."

Principal Freeney, Kellman Corporate School, sharing about a staff appreciation grant to boost morale for essential workers
CFF Compassion Fund support for CPS students during 2020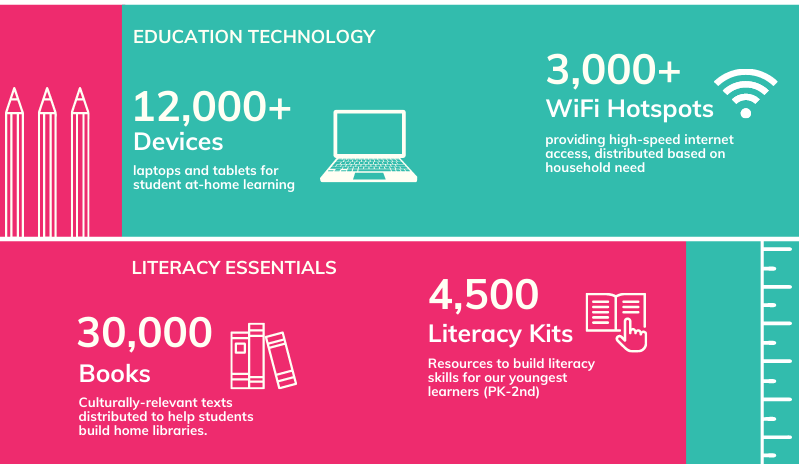 Through donations to the Compassion Fund, Children First Fund has been able to equitably distribute resources directly to hundreds of CPS school communities, including over 12,000 technology devices, 30,000 culturally relevant books, and 4,500 pre-K-2nd literacy kits. District-wide investments in Social-Emotional Learning (SEL) aim to help students process trauma and grief. Our partners' support has brought Rainbows' "Silver Linings" program into over 300 schools and trained 750+ educators, with additional trainings scheduled for early in 2021.
"Receiving this Chromebook will truly help my child to finish his 8th-grade year strong! I am very happy and pleased that Chicago Public Schools was able to make this happen."

Parent, Ellington Elementary School
Aid has reached families and communities as well, with emergency financial relief of $100-$500 for over 1,000 families facing extenuating circumstances and microgrants given to 350 graduates from the Class of 2020 to ease their post-secondary transitions.

Back-to-School: Equipping Students for Remote Learning
In preparation for the school year, our community of supporters united to equip CPS school communities for a year unlike any other. CFF equitably distributed resources, ensuring our students and schools had the resources to meet this historic moment. 
Partners working with CFF through the Compassion Fund's Back-to-School initiative supported CPS students in novel ways. They helped furnish dedicated home learning spaces with desks, tables, lamps, and other essentials. In addition to CPS' massive distribution of learning technology, hundreds of students received new headphones to help them focus and engage while learning at home.  
The monumental Chicago Connected effort endeavors to empower over 100,000 of our neighbors with internet access. Partner initiatives have supported Child Learning Hubs for families of essential workers. Through aid to the District's meal distribution efforts, our supporters have provided tens of millions of meals for Chicago families.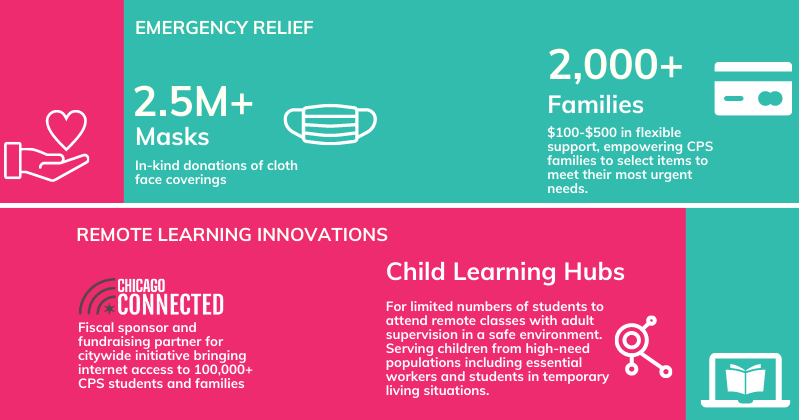 Tangible donations like these have been critically important. But it is impossible to overstate the power of intangible support from our community. CPS students, teachers, and staff know that their neighbors and their city is supporting them through this difficult time. We are truly grateful to the companies, foundations, institutions, and individuals who have rallied together to lift up our school communities.
With this support, our CPS students have shown their resilience. They have been busy: charting courses for higher education and STEM careers, innovating ways to put others first, and advocating for justice and equality around the world.
Bringing practical support and encouragement to CPS school communities
During the pandemic, the Compassion Fund has helped bring practical support and encouragement to thousands of students and families across our city. Flexible emergency relief has empowered CPS schools and principals to the heightened needs of their student body–fostering community, boosting morale, and helping students continue learning. And, although they've often been concealed behind face masks (including in-kind donations of more than 2.5 million cloth face coverings from CFF partners), we've seen an inspiring growth in another essential resource: smiles.
What is the CFF Compassion Fund?
The Compassion Fund supports CPS students by allowing Children First Fund to act immediately when CPS families need us the most. When the COVID-19 pandemic forced schools to move to remote learning, our community responded with an outpouring of generosity. Record numbers of support went to students for computers and headphones connectivity, remote work desks and early reading kits, multicultural books, meal distribution and food delivery, SEL wrap-around services, direct family relief and more.  
Moving forward, immense needs persist in our school communities. Whether students move to in-person learning or remain in remote learning, the pandemic continues to have a pronounced impact on the life circumstances and educational needs of our students. While exacerbated by the current public health crisis, most of the needs addressed by the Compassion Fund existed long before the pandemic. 
We've seen this past year how rapidly our circumstances can shift. In an unpredictable environment, flexibility is crucial for rapid responses to emergent needs. Through our partners continued investments in the Compassion Fund, CFF is positioned to provide precisely this kind of support to Chicago's students.
To those in the Chicagoland area and beyond who have given with such enthusiasm and compassion, thank you for joining us! Your continued partnership is vital to addressing systemic, local, and individual issues and fulfilling CPS' Mission, providing a high-quality public education for every child, in every neighborhood, that prepares each for success in college, career, and civic life.