Fiscal Year 2020-2022 Annual Report
Our philanthropic community in Chicago and beyond demonstrates inspiring generosity in support of CPS students. Especially since the beginning of 2020, Chicagoans have come together to collectively advance equity for Chicago Public School students, directly supporting our schools and overarching district level priorities. This report illustrates our partners' response to challenging circumstances with extraordinary empathy and generosity, the resilience of our students and school communities, and how continued external engagement with our students and school communities supports the ongoing recovery from the impact of these challenges.
Reflecting the unique circumstances of the past two years, this report covers the activities of the Children First Fund for both the 2020-21 and 2021-22 fiscal years, including pandemic-related efforts beginning in March 2020.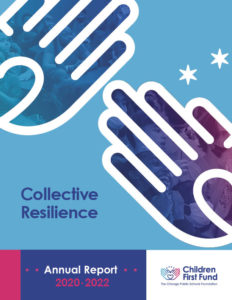 "There's no greater return for Chicagoans than investing in our young people. Increased support for CPS and more students and families learning and thriving in Chicago Public Schools is good for our district, and for our city as a whole."

Peter Ellis

CFF Board member and Partner, Reed Smith, LLP
"The Children First Fund's mission is to promote the growth and success of Chicago Public Schools through philanthropy and partnerships. I believe that is powerful because it takes all of us —you, me, businesses, churches, philanthropy— a whole ecosystem of supports to build a healthier ecosystem for Chicago's young people."

Liz Dozier

CFF Board Member and Chief Executive Officer and Founder of Chicago Beyond