Support CPS Back to School 2022-23 with CFF
Equipping CPS Students and School Communities to Start the New Year Strong
We are inspired every day by the hard work, creativity, talent, resilience and will of CPS students. Every student and every classroom deserves to pursue greatness with foundational wellness and academic resources. You can help make this a reality. Join the movement to ensure all 330,000+ CPS students start the new school year on more equitable footing.
CFF has worked closely with CPS principals, teachers and other leaders to understand the most pressing needs for the 2022-23 school year. Partner with CFF to meet students and schools where they most need your support.
Compassion Fund

CFF's Compassion Fund is a lifeline for CPS school communities, providing resources to meet immediate needs. The Compassion Fund provides crisis support to meet critical needs of students and families facing challenging circumstances. Additionally, it directs resources to classrooms to promote a safe, supportive, and equitable learning environment through academic, facility, social emotional learning, and wellness resources to schools.

Hygiene Care Closets

School Principals and families have told us their students' back-to-school needs extend beyond traditional school supplies. This back-to-school season, we invite you to join us in providing hygiene care closets for schools, spaces where students can access essential personal care products. Hygiene care closets empower schools to support student wellness, meeting both physical and social emotional needs. Your support helps ensure students know they are returning to a supportive learning environment that better enables them to thrive.
To make a donation, plan a supply drive, or for any additional questions, please send an email to partnerships@childrenfirstfund.org. 

School Partnership Program

CFF's school partnership program is a customizable opportunity to build a partnership with a CPS school. Employees and donors build genuine connections with students, teachers, and school administration, extending their community and establishing relationships that last. CFF matches partners with schools that align with their goals and help all parties build a partnership that uplifts both the school and the organization. There's no better time to kick-off a new partnership than the start of a new school year. To learn more about this opportunity and/or fill out an interest form, please visit our School Partnership Program page.
To get involved, contact your current Relationship Manager at Children First Fund, reach out to partnerships@childrenfirstfund.org, or donate directly.
Donate Now
Partner with CFF to stock and install care closets in one or more CPS school for the upcoming school year.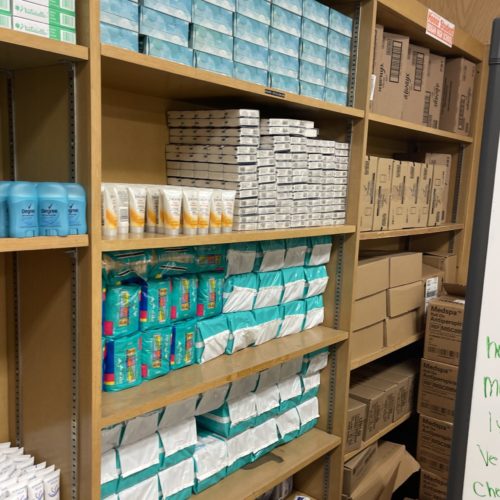 Donate Directly: $2,500 creates a Hygiene Care Closet in one school, stocking it with supplies for the school year
Hygiene Supply Drive: Purchase or collect new, sealed, unused personal care items to fulfill a school's Care Closet list provided by CFF
Individual Supply Donation: reach out to partnerships@childrenfirstfund.org for directions to a drop-off location and a list of needed items.
For inquiries about in-kind contributions and bulk donations of one or more specific personal hygiene item(s), please contact partnerships@childrenfirstfund.org.